John Burroughs School
Class Of 1963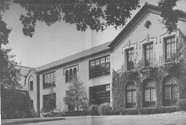 Reunion Details 2023
It's 60 for us! 100 for Burroughs!
Save the Date to Celebrate!
Our 60th Reunion Dinner for JBS Class of 1963 will be
Friday, October 6, 2023
Lester's
9906 Clayton Road
Ladue, MO 63124
5:45 PM
We're making it easy for you to be there. You can even decide to come at the last minute because we'll individually order off Lester's extensive menu then pay our own bills. Your spouses/partners/companions are definitely invited!
The information about our 60th Reunion Dinner is only going to those in our class; Burroughs will send information on events for the 100th Anniversary Celebration.
For our class, the dinner at Lester's will replace the Friday evening programs taking place at the school; Saturday you can visit the campus and attend the Centennial Dinner Celebration.
Those of us in St. Louis will also be happy to arrange visits to the Missouri Botanical Garden and St. Louis Zoo—both have also changed lot in 60 years.
JBS Alumni Office has booked blocks of rooms locally that you may wish to check out.
Ritz in Clayton – Use this link: https://www.marriott.com/event-reservations/reservation-link.mi?id=1675880650815&key=GRP&app=resvlink
10 Deluxe guest rooms: $279 (King and Queen Queen), plus applicable tax
Discounted rate available 10/5/23 – 10/9/23, Book by 9/6/23
Frontenac Hilton – Use this link: https://www.hilton.com/en/attend-my-event/stlfhhf-90t-c6080ac9-f87f-4ead-abb6-1d37d785d618/
Courtesy block of fifteen (15) rooms per night at the discounted rate of $159.00 per night
Discounted rate available 10/5/23 – 10/8/23, Book by 9/6/23
Here's a list of who may be coming—consider us a very large reunion committee that will grow as we add names!
Barbara Deem Anderson (207) 975-5967 pbpanderson@gmail.com
Nancy Wischmeyer Besemer (480) 575-6625 NLBesemer@aol.com
Jim Bierman (202) 445-7001 jbierman@foley.com
Jack Engler (314) 873-9923 jackengler1963@gmail.com
Thomas C. Heineman (314)283-0320 theineman@charter.net
Bill Herbert (314) 766-5432 wherbert@cbgundaker.com
Elinor Horner (617) 821-5180 Elinor@EHorner.com
Marjorie Myles Ivey (314) 753-1337 m_ivey@sbcglobal.net
David Levy (314) 566-7529 jdavidlevy63@gmail.com
Bill Macoy (770) 992-6533 wmacoy@aol.com
Peter Mayer (314) 520-6595 pmayermo@mac.com
David Shores (808) 721-8544 dlshores11@gmail.com
John Sonnenday (412) 419-6116 jwsonnenday@gmail.com
Ellen Walz Svenson (314) 323-7194 svensonellie@gmail.com
Steve Zwick (314) 691-3467 ez1945@aol.com
Please contact Elinor to let her know if you plan to come, hope to come, or if you can't make it. Thanks!
Looking forward to seeing you at our celebration!